FACILITATING HARMONY BETWEEN BEES AND HUMANS
'The specialists in africanized honey bees and correction of problem hives'
SAN DIEGO BEE SANCTUARY IS FULLY INSURED AND LICENSED THROUGH THE CITY, STATE AND DEPARTMENT OF INDUSTRIAL RELATIONS
GIVE US A BUZZ
Drop us a line today for a consultation!
TEXT OR CALL NOW
📞 (619) 663-3900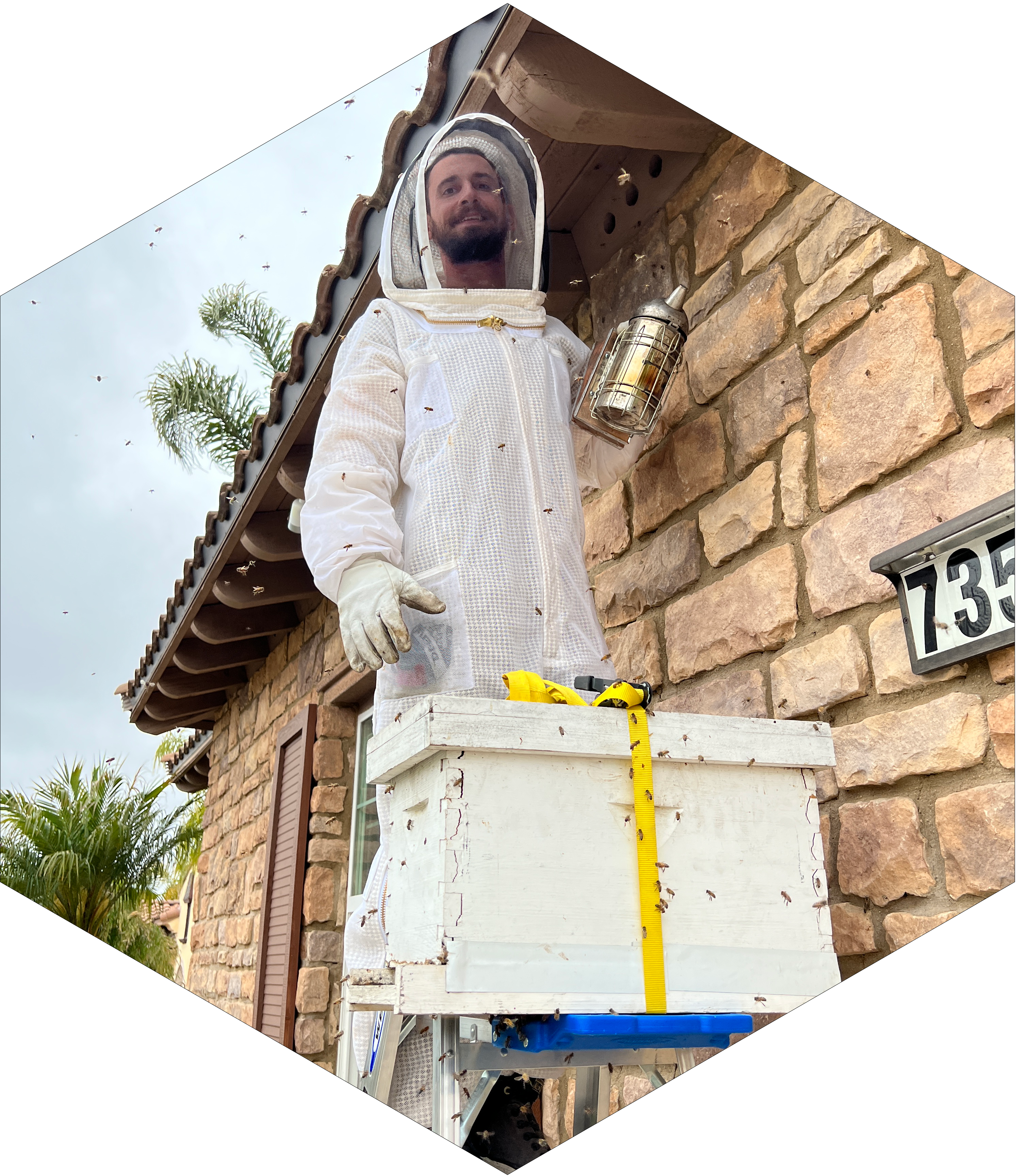 Our mission is to remove and rescue bees and provide them with a safe habitat to grow and prosper.
Bee populations are facing threats from parasites and pests, lack of food/water, and exposure to lethal pesticides. San Diego Bee Sanctuary never uses pesticide and removes the bees using humane and safe techniques to maintain the harmony of nature. Bees are housed at bee yards and sanctuary spaces where they're given everything they need to prosper.
We encourage anyone looking to remove unwanted bees who isn't familiar with them to contact us and not act on their own. 
TOGETHER WE CAN SAVE THE BEES
Bees provide a major function in nature, pollination. When a bee is foraging, they typically visit up to 100 plants to collect nectar and pollen. On this journey some pollen from other plants falls off and pollinates flowers. It's estimated 75-95% of all plants rely on pollinators, without bees a lot of our food wouldn't exist!
There are several ways to get involved in saving the bees. One fun and hands on way is backyard bee keeping. Set up your own colony or have us set it up for you. San Diego Bee Sanctuary will help you at whatever level you want whether it is very involved or completely hand off.
For those unable to have bees of their own we offer hive sponsorship programs that help keep a hive equipped with everything needed for a healthy bee colony at the Sanctuary.
EMAIL US ABOUT SPONSORING A HIVE IN YOUR NAME
We currently have two 15 acre sanctuary spaces in San Diego County. Beekeepers loose 10-50% of their colonies during transported pollination seasons and monoculture pollination is not good for bees and doesn't provide them with enough amino acids to flourish through winter. San Diego Bee Sanctuary does not concentrate on large scale pollination rather healthy bees. We feed our bees custom blended supplements in their food with all the amino acids and goodness they need and monitor colonies for pests to give them the best chance they can at prospering.